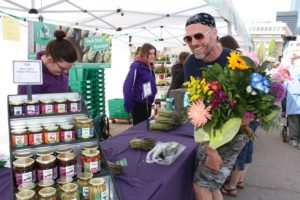 Here are 9 ways you can up your love and support for Alberta local food any time of the year:
Visit local restaurants that source local. Choose locally owned restaurants that are dedicated to using ingredients from local farmers, growers, producers and processors. If you don't see on the menu where some of the ingredients come from, ask your server.
Eat with the season. Plan your at-home menus around what is in season in Alberta.  Find out what's in season here.  
To market, to market! Grocery shop at your local farmers' market and take the time to explore new products and vendors. Go beyond your grocery list and try something new!
Pick your own. Grab the kids or a friend, jump in the car and visit a U-pick. Think about stocking your freezer with berries so you can eat locally grown produce for weeks or months.
Ask for Alberta. When you are at the grocery store, look for local produce and local products on the shelf. If you don't see anything local, ask for it.
Know where your meat is from. Buy your meat from a local butcher, market vendor or direct from the farm. Know where and how your meat has been raised.
Visit a farm. Many farms sell products at their farm gate, or even offer tours. Meet your rural neighbours. Find a farm now.
Get on social media! Share how you support Alberta local food on social media, using the hashtag, #ablocalfood. A well placed tweet, post or story spreads the word about local food and helps a local producer or restaurant's bottom line.
Open a child's eyes. Give your kids or a child in your life the chance to learn about where their food comes from. Take the kids to a U-pick, visit a farm during Open Farm Days, or if you can't leave the city, simply visit a local farmers' market and teach them where those berries, burgers or chocolate milk come from.