We are so excited to announce the winners of our Local Food Week Contest!
Grand Prize Entry was chosen from Instagram.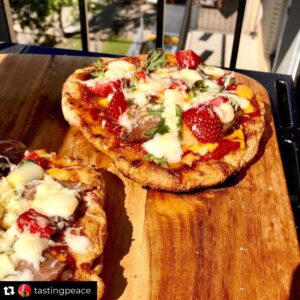 Stephen shopped at Edmonton Downtown Farmers' Market and Old Strathcona Farmers' Market.  This beautiful dish features Sun Dog Organic Farm, Gold Forest Grains, Coal Lake Honey, Sunshine Organic Farm, and Sparrow's Nest Organics.  
Stephen Kozma @tastingpeace shared a photo of a delicious Fragole Pizza. Fragole is the Italian word for strawberry. A common summer dessert in the Emilia-Romagna region of Italy is strawberries with black pepper and aged balsamic vinegar. Thinking of that concept and meeting it in the middle of a Hawaiian pizza, resulted in today's grilled pizza adventure. A grilled Park wheat and Soft White wheat flour crust is brushed with cold pressed camelina oil and grilled until lightly charred. Once flipped it's topped with homemade tomato sauce, organic, nitrate-free ham, fresh basil, fresh strawberries drizzled with black pepper-infused honey and old cheddar, maple smoked cheddar and Muenster cheeses. It's a savoury, smoky and sweet taste of summer!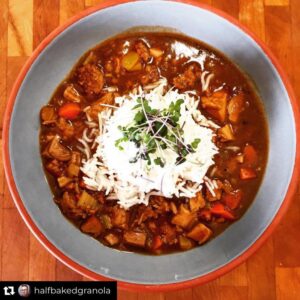 Second Prize goes to Cindi Lee who also entered on Instagram with her page @halfbakedgranola.  Cindi made a scrumptious looking Sausage Gumbo with ingredients purchased at Old Strathcona Farmers Market.  She used chicken from Four Whistle Farm, sausage from Irving Farm Fresh, and greens from Reclaim Urban Farm.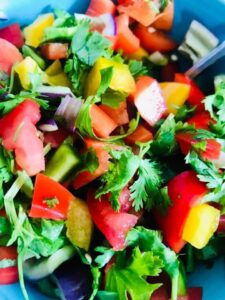 Third Prize goes to Mahdieh Hossini who entered on Facebook.  Mahdieh prepared a lovely, fresh Pico de Gallo using Souto Farms Fresh BC Fruit's beautiful produce purchased at Crossfield Farmers' Market.  
Thank you to everyone who participated!  There were amazing entries!!